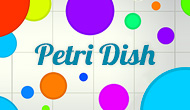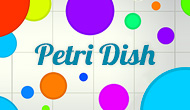 Move
Space
Split
w
Eject some mass Chat Navigate the map
Petri Dish
Author :

Petridish.pw

-

956 933

plays
PetriDish.pw is a multiplayer game in which you will have to absorb colored stars to become bigger and bigger and gain places in the leaderboard of your game. To gain even more mass you can also try to absorb opposing players who are smaller than you. Inspired by Agario, PetriDish offers many improvements with around twenty game modes, dynamic gameplay and the ability to chat with other players in-game.
How to PetriDish.pw?Use your mouse to move around the map and collect colored stars. The Space key splits you in half, this ability is very useful for absorbing players smaller than you. The W key will eject some matter from your main sphere, this can be used to set traps to attract other players towards you.
What are the game modes of PetriDish.pw?PetriDish offers over 20 game modes. For each of them you can choose the server closest to you before you start playing.

The most popular modes are:
- FFA (Free For All): This is the classic mode that has the most servers. Absorb stars and other players to get bigger and bigger.
- Hardcore FFA: This is the hard version of Free For All, here the speed is higher and the size of the food can vary from 1 to 50.
- Mega Split: In this game mode, there is no time limit to reform after splitting. The strategies can be completely different when you can divide into more than 80 balls!
- Team: It's a clash between three teams, the blues, the reds and the greens. Choose your side at the start of the game and cooperate with allied players to defeat your opponents.