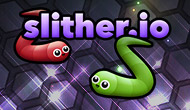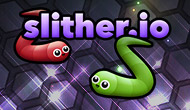 Move Accelerate
Slither.io
Author :

Lowtech Studios

-

4 772 372

plays
When combining the concept of Agario and the timeless gameplay of the game Snake, this gives Slitherio, an arcade multiplayer online game in which you must eat color cells to become the biggest snake of all time! To survive as long as possible in Slither.io, you will need avoid colliding with other players. Conversely, try to trap other snakes to explode them and recover a large amount of material. Also use your ability to accelerate to escape perilous situations. Will you be able to reach the first place in the scoreboard?
How to play Slither.io?Move around the map with your mouse and absorb as much luminescent particles as possible to gain mass and make your worm grow. Use your right click to accelerate, but be careful when using this boost it will make you lose mass.
What are the tips for Slither.io?- When you start a game try instead to focus on collecting light particles so that your snake can grow quickly and get a bigger size to challenge other players.
- One of the strategies to trap other players is to speed up for a moment and try to catch your opponent by surprise. Cut his way and make sure that the head of his snake comes crashing into yours to destroy it. This will allow you to recover all the mace he left behind.
- When you use acceleration boost you lose mass but also leave a trail of small luminescent particles that can benefit other players.
Who is the author of Slither.io?Slither.io was released on March 25, 2016, its author Steve Howse is the founder of Lowtech Studios.