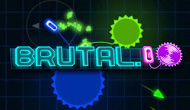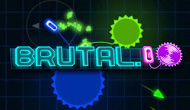 Action
Brutal.io
Author : Profusion Studios -

458 878

plays
In the online multiplayer arcade game Brutal.io you drive a small futuristic car to which is attached a scourge weapon that can destroy the other players. Explore the map in search of primordial material that will make your weapon grow and try to kill as many opponents as possible to increase your score even more. The goal is to survive as long as possible in order to become first of the leaderboard of your game. An adaptation time will be required to control correctly your car and use the physical engine of the game to direct the flail, but once the first minutes have passed you will understand how to develop strategies to defeat your enemies.
How to play Brutal.io?- Steer your car with your mouse and press the right click to release the scourge weapon. Mastering the physics of your car and the inertia of your scourge will be one of the keys to improving yourself. When you make turns or circles with your car it will give speed to your flail, so you can release it at the best time and in the desired direction so that it will hit an opponent and destroy them.
- At the begining of the game, focus on collecting small particles to gain your first levels and thus increase the size of your weapon. You can then attack other players who will reward you much more points.
Who is the author of Brutal.io?The game was created by Profusion Studios, the same development studio as Powerline.io and Wings.io.