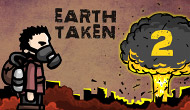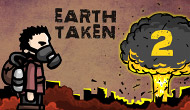 Earth Taken 2
is a Flash game emulated with
Ruffle
. This emulator is still under development and you might occasionally encounter some bugs in the game. Bugs should be fixed over time depending on the progress of the application development.
- Main bugs: Game loading not visible / Music or sounds may be missing
Move
s
Jump
a
Shoot
r
Reload
e
Eat
q
Change weapon
Space
Interact
Earth Taken 2
Author : Seething Swarm | ArmorGames -

52 505

plays
Introducing the sequel to Earth Taken, an exploration and shooter game set in a post-apocalyptic universe. Almost all animals and humans were wiped off of the face of the earth after an alien invasion, the planet is polluted and irradiated, and the air has become unbreathable. Your mission is to survive in this hostile world and find and rescue any possible survivors. Armed merely with a knife to begin with, your task is to fight to find other weapons and to end the reign of terror established by those strange extra-terrestrial beings.