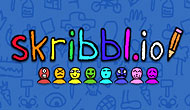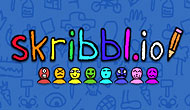 Action
Skribbl.io
Author :

Skribblio

-

912 736

plays
Draw objects and guess words to other players in Skribbl.io, an online multiplayer game inspired by the famous Pictionary. Draw objects and have other players guess words in Skribbl.io, an online multiplayer game inspired by the famous Pictionary. Show your drawing skills to make other players guess your words and when it's your turn to guess, be observant and insightful to find the word drawn before other players. With servers available in fifteen languages Skribbl.io is ideal for learning words in a foreign language while having fun and challenging other players online!
How to play Skribbl.io?It's simple, when you are the designer you have 80 seconds to choose a word from the three selected, memorize it and then try to make the other players guess it only by sketching with your mouse. When it is your turn to guess the words, you will have to try to be quick to be the first to find the right term and thus score as many points as possible. The player with the most points at the end of the game will be the winner.
How to create a custom game in Skribbl.io?On the home screen click on 'Create Private Room', you will then arrive in a menu which will allow you to customize your game by choosing the number of rounds, the language and the time allowed to draw. The 'Custom word' tab will allow you to use the custom words you have chosen.
How to invite friends to play Skribbl.io?When you are in a private game just copy the code located a little lower in the 'Invite Your Friends!' tab and send it to the people you want to play with. When all your friends are connected, click on the button 'Start game' to begin the game.
How many players can play in the same game?In Skibbl.io it is possible to play up to 8 players at the same time in the same game. It could be online players from around the world or friends you have invited.
Does Skribblio work on mobile and tablet?Yes, you can play Skribbl.io on all devices. On mobile and tablet, you can draw using the touch screen of your device and when you guess the words just use your virtual keyboard to write your suggestions.