PLAY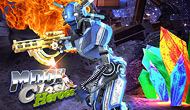 Report a problem
Show controls
Move Aim and Shoot Build Special Skill
Defly.io
Author :
Exodragon Games
 - 
17,929
plays  

Pilot your helicopter and build walls to conquer territories in the multiplayer arcade game Defly.io. Shoot your enemies when they are too close to you and destroy their constructions to prevent them from spreading across the map. Your walls will have to be connected by points which will also be the weakness of your construction, when another player shoots on it, it will destroy the connected walls. The objective in Defly.io will be to conquer a territory, to defend your construction but also to prevent other players from expanding too much. You will regularly gain levels which will allow you to award improvement points in different domains (speed of your helicopter, of your projectiles, special skills, reload speed etc.)
What are the different game modes of Defly.io?- FFA (Free For All): In this game mode you compete with all the other players, the objective is to conquer as much territory as possible and to gain experience. If you die your territory will be lost and you respawn with half your experience.
- Team: In this game mode different teams compete with a maximum of 6 players per team. To win it will be necessary to conquer more territory than all the other teams combined or more than 50% of the map. If you die the territory does not disappear, but an explosion destroys the towers in proportion to your level. You reappear with half your experience.
- Defuse: In this game mode you have to either plant a bomb or defuse it. There are two bomb spots which belong to the blue team and who must protect them. The objective of the Red Team is to plant the bomb in one of these locations and protect it until the end of the game.
How to level up in Defly.io?To become more efficient and more powerful you must try to level up quickly. The maximum level is 32.
There are three ways to gain experience and levels: Conquer territories, destroy towers of your opponents and kill other players by shooting them, you will gain experience in proportion to their level.
What are the superpowers in Defly.io?Special powers are unique abilities available from level 20. There are 6 different ones:
- Dual Fire: This special power allows you to fire two projectiles side by side for 10 seconds (instead of one). This greatly increases your firepower, ideal for destroying enemy towers.
- Speed ​​Boost: This power gives you a temporary speed boost, ideal for fleeing, chasing enemies or ambushing thanks to your speed.
- Clone: ​​This power allows you to create a duplicate of your avatar, ideal for confusing your enemies.
- Shield: By using it you have a temporary shield for a few seconds which will absorb any damage received.
- Flashbang (stun grenade): This ability allows you to throw a stun grenade that will disorient other players for a few seconds by making their screen blank.
- Teleport: This power allows you to teleport your helicopter a certain distance, ideal for escaping or invading territories by surprise.
Who is the author of the game Defly.io?Defly.io was created by Exodragon Games, the same developer as the games LOLBeans.io and Superhex.io