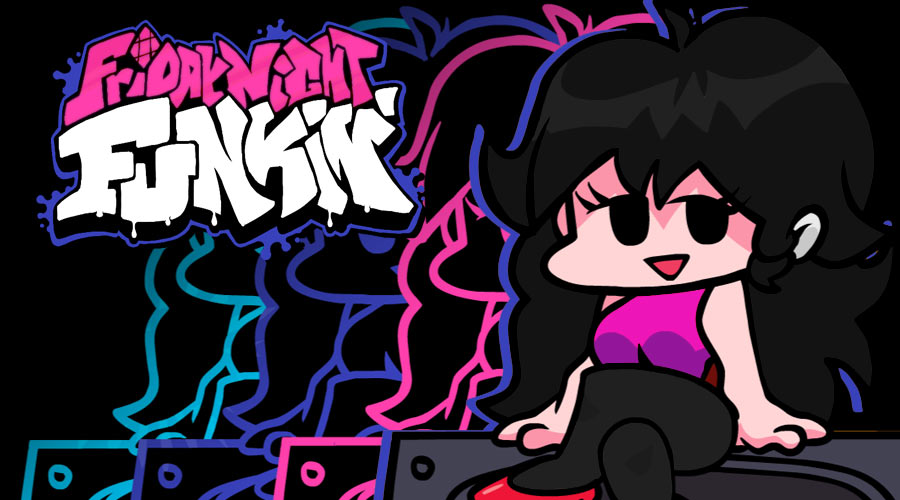 Friday Night Funkin
Optimized (week 1-6)
Neo
B-side
Whitty
Miku
Tricky
Hex
Mid-Fight
Zardy
Sky
CG5
Matt
  or   Action Start
-
+
Volume
Friday Night Funkin'
Author :

Ninjamuffin99

-

2 617 083

plays
Friday Night Funkin' is a music and rhythm game in which you will have to participate in battles against your girlfriend's father who is a seasoned musician. To win the heart of your sweetheart and get his father's agreement you will have to beat him in rhythm competitions and prove that you are a better singer than him. Press the arrows at the right time to produce the right sound and keep the rhythm throughout the songs and miss as few notes as possible. Friday Night Funkin' features a story mode in which you'll have to win battles on three different songs in week one, two songs in week two, and three songs in week three. The story mode offers three levels of difficulty, the hard mode is extremely difficult and will require perfect coordination. To practice, you can play freeplay mode which will allow you to exercise your talents on the first three songs.
You can play Friday Night Funkin unblocked and its most popular mods for free online. On computer at home, on chromebook or at school, you can practice your rythm and skills anywhere!
Programming : ninjamuffin99 / Art : PhantomArcade et EvilSk8er / Music and sounds : Kawaisprite
------------------------------------------------------------------------------------------------------------------------------------------------------------------

Neo (JellyFishedm / Mr.M0isty / EvanClubYT / MagnusStrom)
This mod offers revisited graphics for a more futuristic and colorful neon light look, new customized songs as well as new visual and sound effects.

B-Side Remixes (Rozebud et JADS)
All the songs are replaced by new remixes! The characters have also been recolored to give them a fresher look.

V.S. Whitty (Sock.clip / Nate Anim8 / KadeDev)
Face a single opponent, but the strongest one! Can you beat Whitty and his super fast paced music? Beware of its transformation!

Hatsune Miku (Evdial and GenoX)
Your famous sister wants to meet your Girlfriend, until you ended up staged in front of thousands of people ! Now you have to impress them all !

The Tricky Mod (Banbuds / Rozebud / KadeDev / Cval)
Challenge Tricky and his insane rhythm! This mad clown with incredible flow will be very difficult to beat!

V.S. Hex (YingYang48 / KadeDev / DjCat)
Hex the robot challenges you to a battle on the basketball court!

Sarvente's Mid-Fight Masses (kuroao_anomal / Mike Geno / Dokki.doodlez)
Meet Sarvante, a sweet nun who only wants makes you feel good like at home... as long as you are ready to participate in midnight mass!

Zardy (SwankyBox / Rozebud / StarnyArt / KadeDev)
The dreadful scarecrow still has the rhythm in its branches!

V.S. Sky (LiterallyNoOne / tictacto / Fire_Mario_Fan)
Will the sky be your limit?

CG5 Edition (CG5 / elikapika / DoDo)
Do you think you have reached the top level in the world of music thanks to your battles? You still have things to prove, CG5 will do everything to beat you with its lyrical flights!

Wii Funkin' Matt Mod (hayley_c0ntrol / Sulayre / TheOnlyVolume / Biddle3)
Challenge Matt the sports coach in minimalist musical style battles!