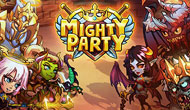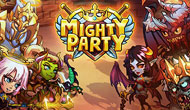 Action
Mighty Party
Author : Panoramik Inc -

100 828

plays
Are you ready to fight to restore peace in the kingdom of Mighty Party? Take the command of an army led by your hero and fight powerful and formidable adversaries in strategic turn-based combat. Gain fame, experience, and gold to upgrade your troops and hero, and build your army in the best way to beat your opponents. Mighty Party offers an exciting single player campaign and intense multiplayer combats that will allow you to progress in the different leagues and win many rewards.

What is the best team composition in Mighty Party?Mighty Party offers a turn-based combat system in which the composition of your army will be decisive. Defend the front line with units that have a lot of hit points to tank damage and protect your archers, magicians and other healers so they can do maximum damage without being hit by enemy units.
What are the game modes of Mighty Party?- Battle Chamber mode is a multiplayer PvP mode that will allow you to compete against other online players and progress in the leagues. Each victory will earn you a chest containing more and more interesting rewards as you progress in the leagues.
- The Journey mode will tell you the story of the heroes and make you fight against the AI ​​in increasingly difficult missions to obtain the cards of each defeated hero.
Attempts are limited, you can reload them over time or obtain more as a reward of the fight mode.
- The Brawl mode is a PvP mode whose victories will give you various rewards. You can win cards, gold coins, tokens or even attempts for journey mode.
- Gold Mine will be useful for obtaining gold coins. The fights will be in limited turns against statues and the goal will be to earn a maximum of gold in a minimum of turns.
- The Dark Tower is a PvP mode allowing you to earn more reward for each victory and become the hero of the black tower!
- Divine Arena will allow you to play with unique decks to obtain rare chests!
What are the tips for Mighty Party?- Reach league 21 quickly to unlock special events.
- Once you have reached League 18, you can evolve your hero towards rare, epic and even legendary qualities.
- From league 14, defeats will make you lose fame and go down in the rankings up to certain levels. The different levels are leagues 14, 10 and 5.
- To win your multiplayer matches the composition of your team will be essential, if you lose often try to replace the units of your team in order to create synergies.
Who is the developer of Mighty Party?Mighty Party was developed by Panoramik Inc, a Saint Petersburg game studio which also created Forge of Gods